American Heart Association Honors Dr. Gerald Berenson
November 17, 2008 1:45 AM
|
Tulane University cardiologist Dr. Gerald S. Berenson is one of only 13 researchers from throughout the country to be selected as a 2008 Distinguished Scientist by the American Heart Association. This distinction is bestowed upon prominent members of the association whose work has advanced the understanding and management of cardiovascular disease and stroke.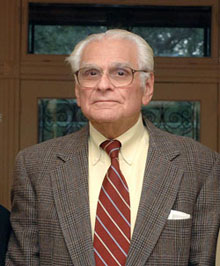 Berenson is clinical professor of cardiology and pediatric cardiology in the Tulane School of Medicine and research professor of epidemiology in the School of Public Health and Tropical Medicine. He received the Distinguished Scientist award during the association's annual meeting in New Orleans on Nov. 9.
The director of the Tulane Center for Cardiovascular Health, Berenson has led the Bogalusa Heart Study for the past 34 years.

This long-term study involving thousands of children in rural Louisiana has provided encyclopedic data on the early natural history of arteriosclerosis and hypertension, and has developed strategies to aggressively address modifiable risk factors for cardiovascular disease and stroke.
Investigations led by Berenson in Bogalusa, La., began elucidating racial and gender differences in cardiovascular risk and pointing to the critical influence of long-term lifestyle trends, such as obesity and smoking.

These distributing trends brought into focus and clarified the complex interactions of genetics and environment in disease development. The American Heart Association's national emphasis on healthier children's diets and lifestyles is to a large extent predicated on the lessons learned from a lifetime of robust research by this clinician-scientist.
Berenson began his enormously productive academic career at the Tulane School of Medicine in 1948, as an assistant in the Department of Medicine. He had received his medical degree at Tulane in 1945 and joined his alma mater after service in the U.S. Navy. After four years of clinical and research training with renowned cardiologist Dr. George Burch and a two-year fellowship at the University of Chicago, Berenson moved to the faculty of Louisiana State University School of Medicine in 1954. He served with distinction there until 1991, when he rejoined Tulane.
He has published more than 850 journal articles and four books documenting his research.
Tulane honored the cardiologist with an Outstanding Alumnus Award in 1999 and a Lifetime Achievement Award in 1995. In 2005 he received the Meritorious Achievement Award from the American Heart Association for his contributions to understanding the early origins of atherosclerosis in childhood, and in 2006 he was the recipient of the association's Population Research Prize.
A widely sought visiting scholar, lecturer and conference leader, Berenson has served many professional organizations, including the American Society of Hypertension, the American College of Cardiology and American Society for Preventive Cardiology. He is a fellow of the American Association for the Advancement of Science.
After Hurricane Katrina, Berenson, his wife and Labrador retriever evacuated out of the city in aluminum boats to Baton Rouge, La. He spent the next four days helping triage patients on the campus of Louisiana State University and the next six weeks at Charity Hospital in Baton Rouge.

Though some of his prized laboratory samples were lost and facilities damaged by wind and rain in Bogalusa, Berenson and his team are back at work, adding further to research that fundamentally has changed the direction of preventive medicine.