A Katrina Class Story: "This Is My Home"
|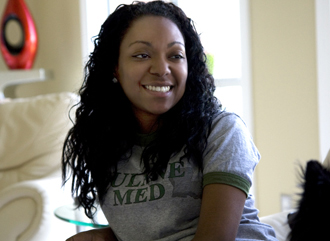 Ashley Doucette was two weeks into her first year of study at the Tulane University School of Medicine when Hurricane Katrina struck. A native of New Orleans, Doucette was at that time living with her parents in their New Orleans East home, which took in 10 feet of water.

With her world turned upside down, Doucette wondered how she could continue with her medical education. She talks about those anxious days and weeks after the storm in this multimedia presentation.
"To start all over again, starting from scratch, losing everything you own …," muses Doucette, who will join the others in the medical school's "Katrina class" in receiving her medical degree.
Doucette's story was produced by New Wave team members Nick Marinello and Ryan Rivet, with photography by Rivet.